How to Create an Effective War Room Prayer Strategy
Are you looking to be strategic in your prayer time? My friend Beth is on the blog today sharing about how to create a prayer strategy as part of our morning scripture prayer series.
"Checkmate." That one word means victory for one player and defeat for the other. Chess is a strategic game of knowing the board, your pieces, your opponent's pieces, and how the pieces move.
"Your will be done." Those words mean victory for the Christian and defeat for the evil one. Prayer is the greatest strategic weapon that we have in our lives. Prayer requires that we know God, believe in his power, know ourselves and the battle we face.
Since prayer is a strategic weapon, we need to have a prayer strategy.
Why do I need a prayer strategy?
Perhaps you are thinking: Is a prayer strategy is that necessary? Can't I just pray? Yes, you can! But a prayer strategy will guide you into praying for the right things. And a prayer strategy will keep you going when you are ready to quit.
An army doesn't just go out and fight. They follow the battle plan. Bakers don't just dump ingredients into a bowl and hope it turns out all right. They follow the recipe. Teachers achieve their goals by following their lesson plans. Is prayer any different? Prayer warriors who win victories have a plan, a prayer strategy, and they follow it.
When I realized that I did need a prayer strategy, I spent some time thinking, asking questions, reading my Bible and even praying about what my strategy should be. I am going to share some of the questions that I asked myself, and some of the verses that helped me to create my prayer strategy.

What is prayer?
I need to understand exactly what prayer is before I begin planning. If I am uncertain, I will waver and struggle. Prayer is communicating with God. This involves both speaking and listening. Prayer demonstrates my dependence on God. I want to know God's heart. I want my prayers to be aligned with God's Word and His will. Prayer includes confession, worship, bringing my petitions to God, and interceding for those around me. Here is how to create a simple prayer journal around these elements.
Tip: Check out all the posts in our morning prayer series here for more help in planning a strategy for your morning prayer time.
What is the goal of prayer?
The goal of prayer is not to get what I want or make my life easier. The best summary of the goal of prayer is from the Lord's prayer, "Your kingdom come, your will be done, on earth as it is in heaven" Matthew 6:10 (ESV). Praying acknowledges who God is, and it requires that I surrender my desires to God's will.
I want to be a person who prays about everything, big or small. I want to learn to pray at all times. I want to pray faithfully for others. When I am 99, I want to be the little old lady who is still praying for anyone and everyone. I need to be doing that now.
Why create a prayer strategy?
I want to create a prayer strategy that enables God to have the victory. Christians are involved in a spiritual battle. It is easy to get comfortable and busy and forget that we are in a state of war. We have an enemy who wants to defeat us. He will do everything in his power to destroy us, discourage us, or distract us, and our prayer-lessness gives him the freedom to do as he likes.
I want to pray with power from God and to be specific in my prayers. I have written two guides that help me pray specific prayers. How to Pray for Teens and How to Pray for Missionaries. Both of these are simple A-Z prayer guides designed to guide you into praying specific details. These A-Z prayer cards are also a great strategy for praying God's word for your children. 
A prayer strategy should be a guide. I need a prayer strategy that will remind me that I am fighting a battle. I want this to encourage me to pray, and then pray even more until the battle is won. God works and wins victories through prayer.

Write a Prayer Strategy
Battle plans are written down. Plans of any kind are committed to writing so that they can be referred to when needed. I decided my prayer strategy also needed to be written down. For some trivial plans, I suppose it doesn't matter if they are just in our heads. But for the really important plans, we want them in writing.
I have written my Prayer Strategy and it is one of the first pages in my prayer journal. It is my plan for how I will do battle in prayer.
Some of the elements that I have included on this page are:
When will I pray? I set apart some time in the morning to sit and converse with God, using my prayer journal to keep me focused and also to record what I am saying to God and what I am hearing from God. Throughout the day I want to be communicating with God, redeeming the time when I am driving, walking, waiting, or cleaning to talk to and listen to God. I wrote this on my prayer strategy just to see clearly in writing what I am committing to.
What is prayer? This is a summary of what prayer means to me. I desire is to know God's heart and to pray according to his will. I want to listen as God speaks. I want to see God at work in my life and the lives of others.
Why pray? There is a battle raging for my own heart. And there is a battle raging for those around me. I need to remember that this is a spiritual war that I am fighting. "For we do not wrestle against flesh and blood, but against the rulers, against the authorities, against the cosmic powers over this present darkness, against the spiritual forces of evil in the heavenly places" Ephesians 6:12 (ESV).
What will keep me from praying? This is a bit personal, but I want to be honest with myself and look at what will stop me from praying. Here are a few prayer-stoppers that I listed:
Too busy
Discouraged
Feeling guilty and unworthy
Doubting that prayer works
Thinking that God doesn't listen
When I was feeling stronger spiritually, I took the time to just write a response to each one of these. Knowing what God says is helping me to have a defense against the prayer-stoppers when they launch their attacks. I also allowed extra space in my prayer journal to add to the list of other things that come up in the future.
Scriptures to Pray: Of course this is the meat of the prayer strategy. Here are some favorite scriptures to pray and here is a 40-day prayer challenge to start with if you'd like a ready made place to start. Simple tools such as this bookmark with 12 Scripture prayers  and these 25 prayers to pray in the morning can be powerful in establishing a prayer strategy that works.
I hope this helps you to consider how you can write your own prayer strategy. Make it personal and practical, a helpful guide to becoming a prayer warrior.
Other Helpful Prayer Resources:
10 War Room Scriptures for your prayer room
10 War Room Prayers for your marriage
10 Scripture prayers for our Nation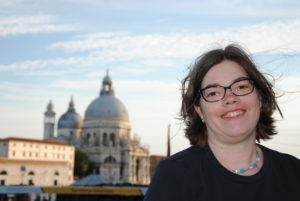 Beth is a wife and a mom to two children: a son who was adopted and a daughter with Down Syndrome. Her family lived as missionaries in Asia for many years. Currently, they are in England working with East Asians. Beth loves to dig deep into the Bible, reads lots of books, travels to new places, and write words in her journal, for her blog, or a book. Beth blogs at As He Leads is Joy.