Ultimate Bible Art Journaling Glossary
If you are new to Bible art journaling or ready to step up your "game", you may come across terms that are unfamiliar to you.  This Bible journaling guide and glossary is a handy guide to help you learn more about Bible journaling, key Bible journaling terms, and tools to help you create pages that inspire you as you dig deeper into His Word.
Note: This Bible art journaling glossary includes only terms for traditional Bible journaling and does not include terms for digital (computer-based) Bible journaling.
Let's start with the definition of Bible journaling:
Bible art journaling – Bible journaling is taking artist methods and your own creativity to visually study and reflect on God's Word. (Most use art supplies to create in the margins of a journaling Bible or blank journal).
The methods used are as unique as the person creating the page.  Some choose to use paint or markers (wet mediums), while others like to use die cuts, colored pencils and stickers (dry mediums).
Bible journaling can be deeply personal and enhance your Bible study.
Ready to dive in to the Bible art journaling glossary?
The Ultimate Bible Art Journaling Glossary
Acid
A chemical compound that causes paper to discolor and become brittle or weak.  It can also cause ink to fade or discolor.
Acid Free
Art supplies that are "acid free" will not damage your Bible pages and other media added to your Bible journaling.
Adhesive
A sticky substance used to attach die cuts, photos and other items to your Bible pages or journal. (Look for adhesives labeled acid-free)
Alkaline
The opposite of acid. Alkaline is often added to products that contain acid to neutralize it making it safer for your project.
Altered
Changing the composition of something, typically in a small but significant way. Ultimately, this is what Bible journaling is: altering your Bible bring your creativity as you study the Bible or verses.
Archival
A product that is safe, over time, when it is exposed to other items (Ink, for example, may fade, over time, if it is not labeled as "archival").
Bleed
The amount of ink or paint that shows through the opposite side of the page.  (Hint: Test pens and paint on paper before using in your Bible to determine how much "bleed" there will be.)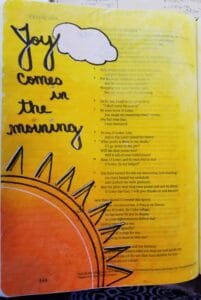 Front Page
Back Page Showing Bleed

Bible Journaling Bible
A Bible designed specifically for use in Bible journaling.  Bible journaling Bibles often have very wide margins providing room for your creative endeavors. Some journaling Bibles have pre-printed images or verses in fancy or large text for coloring.
Cardstock
Paper that is thicker and more durable than normal writing or printing paper, but thinner and more flexible than other forms of paper, such as cardboard.
Chalking
Use art chalk to add color to (usually on the edges or to color an image)
Collage
A form of art where various materials (paper or photos, usually) is applied in layers to create a composition.
Colorfast
Colors that will not fade or run.  The color is usually "dyed in" in the manufacturing process.
Color Wheel
A circle with different colored sectors used to show the relationship between colors. (Using a color wheel can help you choose colors that work well together and do not clash)
Colored Pencils
A pencil that, instead of lead, is filled with colored pigment and binders. The higher the quality of the colored pencil, the deeper pigment and the more colorfast that it is.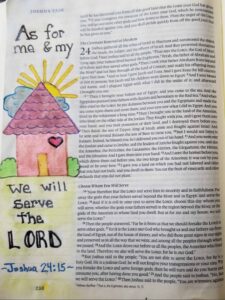 Complimentary Color
Complementary colors are two colors that are on opposite sides of the color wheel. (For example: red and green). Using complementary colors makes the colors "pop".
Corrugated Paper
Material made from layers of thick paper, the top layer of which is alternately grooved and ridged for added strength and rigidity. (Usually too thick to use in Bible journaling, but, when torn into thinner pieces, can be used to add fun elements to your page.)
Cropping
Removing or cutting the unwanted areas of a photo or image to focus on a smaller element of the image.
Die cut
Patterns and shapes created by a form of cutter or die cut machine that can be added to your Bible journaling pages. (Create them at home by using a personal die cut machine, such as the Silhouette or Cricut) or purchase them at retailers such as Illustrated faith).
Dry Media
Drawing or painting tools that have a very low moisture content such as pencils, colored pencils, charcoal and chalk.
Embellishment
A decorative element or detail added to a page to make it more visually appealing.
Embossing
Creating of an impression (raised or relief) of a design, pattern or lettering.
Gelatos
Very popular for use in Bible journaling, gelatos are creamy sticks of acid-free, odorless water-soluble pigment color. They blend well wet or dry.
Gesso
A white, clear or black paint mixture consisting of a binder mixed with chalk, gypsum or pigment used to coat or prepare a surface for other media used over it.  (Hint: coating your Bible page with clear gesso before adding wet media will reduce bleed and help your pages stand up to time and handling.)
Highlighted Verses
Adding color, markings or text to emphasize a verse. Here's a guide on how to color code your Bible.
Journaling
A written record of a person's observations, experiences and thoughts.
Lignin
Lignin is a substance contained in wood that provides additional stiffening of the fibers. When used in paper production lignin makes the finished sheet turn yellow quickly.
Lignin Free
Free of lignin, an acid based substance that deteriorates paper, discolors photos, etc. When adding paper or paper-based embellishments to your Bible journaling, look for lignin-free material.
Mat
To place a layer of paper or other material under another to create a frame or additional decoration.
Memorabilia
Objects kept or collected because of their historical interest, especially those associated with memorable people or events. Family memorabilia is often added to Bibles in Bible journaling. 
Mixed Media
A form of art that combines a variety of media in a single artwork. For example, if you draw with ink, then paint over it with watercolors, then add some highlights in colored pencil.
Monochromatic
Using or containing one color. Monochromatic color schemes come from a single base color that is extended by using its tones, tints and shades.
Mounting
Attaching a painting, photo, embellishment, or memorabilia to a surface.
Paper Piecing
A technique that uses smaller pieces of cut or torn paper (cardstock, patterned paper) to create a bigger image.
Paper Tearing
Tearing, instead of cutting paper to give the edges an imperfect, handmade or shabby chic look.
Paper Trimmer
A paper cutter that uses a rotary blade that sits on the rail and cuts through paper from side to side.
Patterned Paper
Paper printed with text, designs or images for use in scrapbooking and Bible journaling. Usually in heavier weights than printer paper, that can hold up to time and handling.
Punch
A tool that is used to cut (punch) shapes through paper. Punches are available in a number of shapes and sizes.
Stamps
A device for inking and imprinting a message or design on a surface. Available in rubber and photopolymer.
Stamping Ink
Ink to transfer color from stamp to project.  Available in a variety of colors and for porous and non-porous surfaces.
Stencil
A thin sheet of cardboard, plastic, or metal with a pattern or letters cut out of it, stencils are used to produce the cut design on the surface below by the application of ink or paint through the holes.
Sticker
An easy to apply, decorative embellishment used to enhance creative projects.
Tabs
Paper or plastic pieces attached to the edge of the page to mark a section, tabs usually used to mark each book of the Bible for easy reference.
Tape Runner
Commonly used in paper craft projects, a tape runner is a form of adhesive, in tape form.
Tip-in
A page added to your Bible for additional journaling, photos, bookmarks or any other item you wish to add. (You can find dozens of printable tip ins and other free Bible journaling resources here.)
Vellum
Vellum is a translucent paper and vellum is a slightly rough-surfaced, non-translucent paper. You can use vellum to add translucent layers to your Bible journaling page.
Washi Tape
Decorative, colored adhesive tape.  Can be used to edge the first page of a book in the Bible for reference or for embellishment.
Wet Media
Drawing or painting tools with a higher amount of moisture including paint, gelatos, markers, etc.
(Hint: Wet mediums are more likely to bleed through.  Consider using gesso to prep your pages before using wet media.)
Whew!  There are dozens, maybe hundreds more terms we could add to our Bible journaling glossary if we were to include all of the possible tools or media that can be used.
The glossary above will help you to understand commonly used terms in Bible journaling for beginners, and hopefully, give you the foundation to start your own journey with Bible journaling, or even to teach Bible journaling.
Susan is a writer, speaker and the creator of Women of Noble Character ministries. She is passionate about helping Christian women live a Proverbs 31 life in today's world.  She also is a creative at heart and enjoys Bible journaling and other forms of creative worship. She lives in rural North Central Missouri with her handsome and hilarious husband and a myriad of dogs, cats and chickens. Susan runs on Jesus, coffee and not enough sleep. Find her at Woman of Noble Character.